LPR180 Micro Softgel Encapsulation Machine
Item No.: LPMIE240
LPR180 Micro Softgel Encapsulation Machine is on the basis of LPR300 softgel encapsulation machine technology platform, adopts international advanced control technology, precise design, precise manufacturing and finished the line, it is the stable and dep
Product parameters
Model:
LPR180
Capacity:
40,000pcs/hour
Power:
7KW
Weight:
1200kg
Dimension:
1680X750X1800mm
Login to see price
INQUIRY
Description
LPR180 Micro Softgel Encapsulation Machine is on the basis of LPR300 softgel encapsulation machine technology platform, adopts international advanced control technology, precise design, precise manufacturing and finished the line, it is the stable and dependable tool for the high quality soft capsule production at present.
LPR180 Micro Softgel Encapsulation Machine is pure production type equipments, the unit annual production capacity is above 250,000,000 capsules. The whole set of equipments structure tight, property stable, it is suitable for food, medicine, cosmetics and chemical industry use.
Main Characteristics:
1. Two sides gelatin film linear conveying, no need to adjust, production stable.
2. Control type: each system independent control, coordinated accordingly, easy to adjust.
3. Roller die pressing type: pneumatic pressure pressing, digital display, light and easy.
4. Roller die adjustment: free opposite line design, simplified operation, to prevent operator's mistakes.
5. Wedge lifting type: elec-driven, and self-lock, safety and dependable.
6. Material supply pump: free adjust design, easy install, prevent operator's mistake, all rolling bearing design, prolonged using life.
7. Material supply pump direction guidance: bearing guidance rails (numerical control machine tool technology)
8. Main machine noise control: low noise design, there is no noise increase when highest and lowest speed operation. Improved working conditions.
9. Main machine lubrication: independent lubrication, lubricant using quantity: <5L/time (change one time every 6 months)
10. Gelatin film lubricant using quantity: <2L/24h, almost no oil capsule pressing, reduce the production cost, clean working condition.
11. Adopts non-oil or micro-oil lubrication, it is easy to evaporate the water of the capsule, shortened the drying time
12. Free solvent cleaning: for most of the soft capsules no need to clean by alcohol or ether. To prevent the hurt from the solvent to the capsules. (the printed soft capsules excepted)
13. Gelatin film control: precise film thickness adjustment, independent film spreading control, it is flexible and suitable to various kinds of gelatin solution and moulds, reaches the max. using rate of gelatin solution.
14. Gelatin film cooling type: auto-control water cooling, air blow balance, equipped with machine.
15. Temperature control material hopper: precise temperature control, auto liquid level control, it is suitable to various kinds of materials' requirements (standard equipped).
16. Humanized design, easy to operate.
a) Mould with mould shaft matching design, to prevent the damage during the moulds installation
b) Special use wedge installation device, prevent the damage of the wedge during the installation. Reduce the working strength of the operators.
c) We use the simplified design for all the daily maintenance parts. Easy and fast.
17. Special industrial beautiful designing, it makes the whole machine looks beautiful and generous, brief and clear, find the scenery pleasing to both the eye and the mind.

Technical Parameter
| | |
| --- | --- |
| Roller die dimension: | Φ103X180mm |
| Roller die pressure: | 0.1-0.5MPa |
| Roller die speed: | 0-6rpm stepless speed adjust |
| Material feeding quantity: | 10X(0-2)ml |
| Filling quantity precision: | <500mg ±2%, >500mg ±1% |
| Power: | AC380V 50Hz 7kW |
| Weight: | 1200kg |
| External size: | 1680X750X1800mm |
Pictures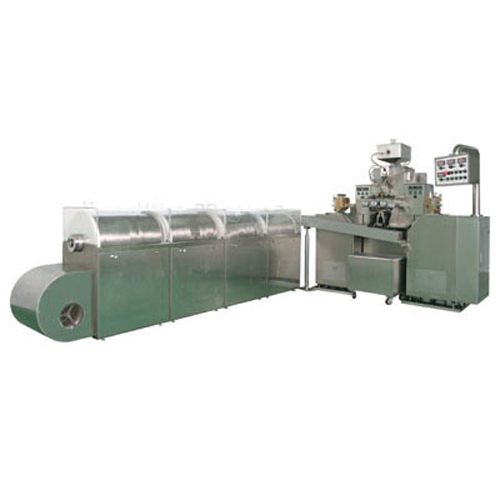 Final Products